Porterfield — Inside 'The B.A. Breakthrough': What an Inspiring New Book Reveals About America's Growing Success in Propelling First-Generation Students To (and Through) College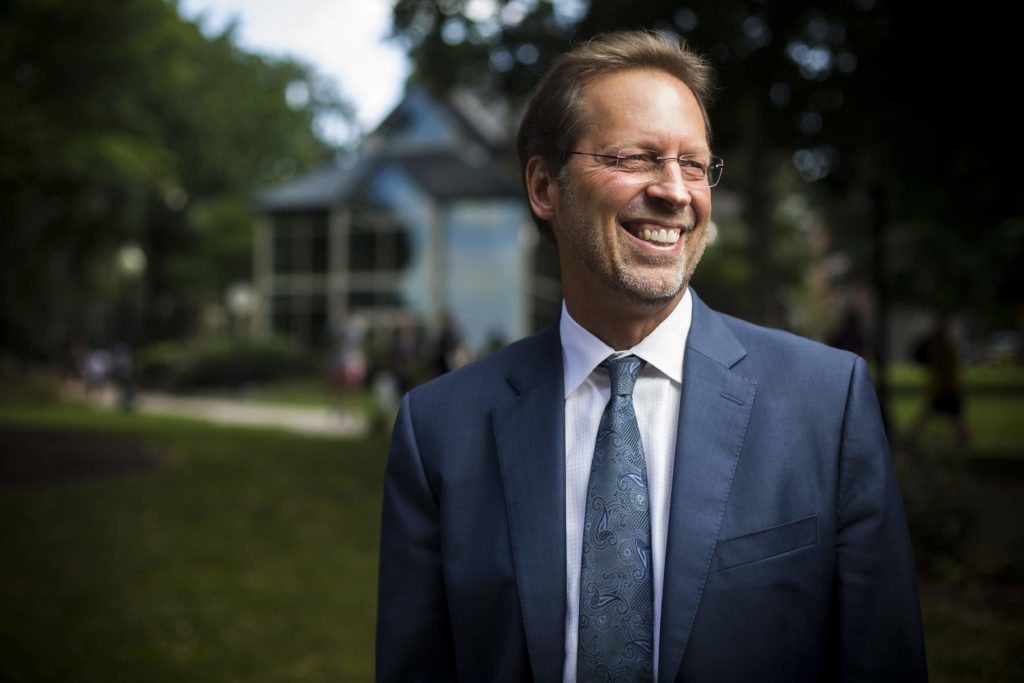 This is an excerpt from the new Richard Whitmire book The B.A. Breakthrough: How Ending Diploma Disparities Can Change the Face of America. See more excerpts, profiles, commentaries, videos, and additional data behind the book at The74Million.org/Breakthrough.

Today, our world faces a seemingly endless stream of intractable challenges, from political polarization to generational poverty to climate change. Many are discouraged. In a swiftly changing world, hope may seem in short supply. But that is exactly why this book matters. In The B.A. Breakthrough, Richard Whitmire illustrates why building new, and improving existing, educational systems to empower students with college success is needed now — and that it is happening. That's essential to untangling our society's Gordian knots.

Some people will say that we can't afford to invest in young people and education right now — that other problems demand our attention, time, and treasure. But the solutions to all those other problems require young people who are educated, empowered, and equipped to act. Their optimism can break the bonds of fatalism and denial.

For the one and the many, education is the key to economic progress and political empowerment. The talent and creativity of our students is America's greatest natural resource — and it is education more than any other investment that will position our country to navigate the enormous workforce transition before us as our once-largest generation, the baby boomers, moves into retirement. Whose work will support the boomers' Medicare and Social Security? Today's schoolchildren. And, so, educating those students well matters profoundly.

"Whitmire has authored a timely and important book, because he drives home a critical point that matters for students, colleges, and society."

We who are older have many worries that keep us up at night. But for so many of our young people, finding solutions is what gets them up in the morning. The B.A. Breakthrough gives us the examples and the insights necessary to educate, empower, and equip lower-income students to succeed and to soar.

Whitmire has authored a timely and important book, because he drives home a critical point that matters for students, colleges, and society: that we are learning steadily, and pretty quickly, what works in educating and propelling first-generation students into college opportunity and then sustaining their growth in and through college.

What works is not one single action or game-changing solution, but a set of actions, each of which has been proven demonstrably to make a difference.

We need to expose all low-income students to strong curricula and high-impact teachers in schools that give parents a voice and are accountable for results. We need to provide students with advising and mentoring so that they can envision college and professional pathways that are right for them and successfully navigate the admission process for college and financial aid.

We need to work with colleges to increase funding for need-based financial aid, to deepen their recruitment pools of talented students, and to lower the blocks and barriers to college degree attainment that are now well identified — from advising to emergency funds to facilitating belonging. And we need to make sure that government, business, and philanthropy do their parts to invest in results-oriented education at all levels — in particular that they send pro-college, pro-achievement messages to students from underrepresented groups and create a norm and an expectation in society that education is a pathway to economic and political empowerment.

Every reader of this book can find difference-making work to connect to. If one wants to look at pre-college education, the book highlights schools like the KIPP network's public charter schools in Gaston, North Carolina, that are making a difference. If it's college
advising and preparation, the book looks at organizations like The Posse Foundation and the College Advising Corps that open doors wide to college opportunity. If the
focus is college itself, Whitmire profiles Franklin & Marshall College, where I served as president, and its success in increasing substantially its enrollment of lower-income students through investments in need- based financial aid and strategic partnerships with strong pre-college programs, schools, and leaders.

Related: Franklin & Marshall's Mission to Make College More Equitable Is Changing the Face of Higher Ed

The book also cites important research from recent years that demonstrates the urgency of the issue. For example, Whitmire points to studies by Stanford University's Caroline Hoxby showing that every year, tens of thousands of high-achieving, low-income students do not
apply to a single selective college. And he cites the findings of the Pell Institute that only 11 percent of the lowest-income high school students complete a bachelor's degree in six years.

It's commonplace to say today that the United States is competing in a global knowledge economy where the intellectual power of our citizens will determine both their own life prospects and our economic strength as a nation. It's also often said that every job whose functions can be automated — from tellers to truck drivers — will be. Moreover, we're experiencing profound demographic change with the rapid progress of our youth population to being majority-minority in terms of race and ethnicity and the likelihood of longer life spans because of bold advances in medical technology.

Related: New Numbers Show Low-Income Students at Most of America's Largest Charter School Networks Graduating College at Two to Four Times the National Average

We live in an era of rapidly escalating change. That's undeniable and immutable. Our best answer to the many challenges we face as a country, and the many opportunities we have to improve our standard of living, is to invest boldly, confidently, and determinedly
in every stage of the educational process — from preschool to the Ph.D. — with a firm commitment to an ethic of excellence in all we say and do.

Richard Whitmire has documented excellence throughout this book. It's an honest, optimistic, and inspiring read. Let's hope the leaders and approaches he profiles will grow in influence during the next decade and beyond.

Our young people deserve nothing less.

Related: Inside 'The B.A. Breakthrough': Richard Whitmire's New Book Uncovers a Sea Change of Success Happening for First-Generation College Graduates

This is an excerpt from the new Richard Whitmire book The B.A. Breakthrough: How Ending Diploma Disparities Can Change the Face of America. See more excerpts, profiles, commentaries, videos, and additional data behind the book at The74Million.org/Breakthrough. (Disclosure: The Walton Family Foundation funded a writing fellowship that helped produce The B.A. Breakthrough and provides financial support to The 74.)